Cisco UCM Recording Announcement Integration Guide
MiaRec has implemented a unique solution for automatic recording announcement for any call scenario on Cisco platform. Such scenarios include both inbound and outbound calls.
The uniqueness of such solution is that it supports outbound call scenarios, which are normally not routed trough IVR system. With MiaRec solution, the customers will hear pre-recorded announcement at the beginning of conversation. Configuration is very flexible and allows to exclude some call scenarios from automatic announcement playback. For example, when agent makes outgoing call to another agent, then announcement could be avoided.
The announcement message is recorded into audio file together with a conversation, which serves as a proof that both parties have been notified about recording.
How it works
The following diagram describes outbound call flow scenario, but it is valid for inbound call scenario as well.
MiaRec application monitors call events using TAPI interface to Cisco Unified Communications Manager.
When agent makes new call to customer (1), the Cisco UCM notifies MiaRec application about new call via TAPI (2).
Call recording is implemented using Cisco active recording method (Built-in-Bridge) shown on diagram as (3).
When call recording begins, MiaRec application sends a command to CUCM to play recording notification into communication channel (4).
Both agent and customer hear such notification.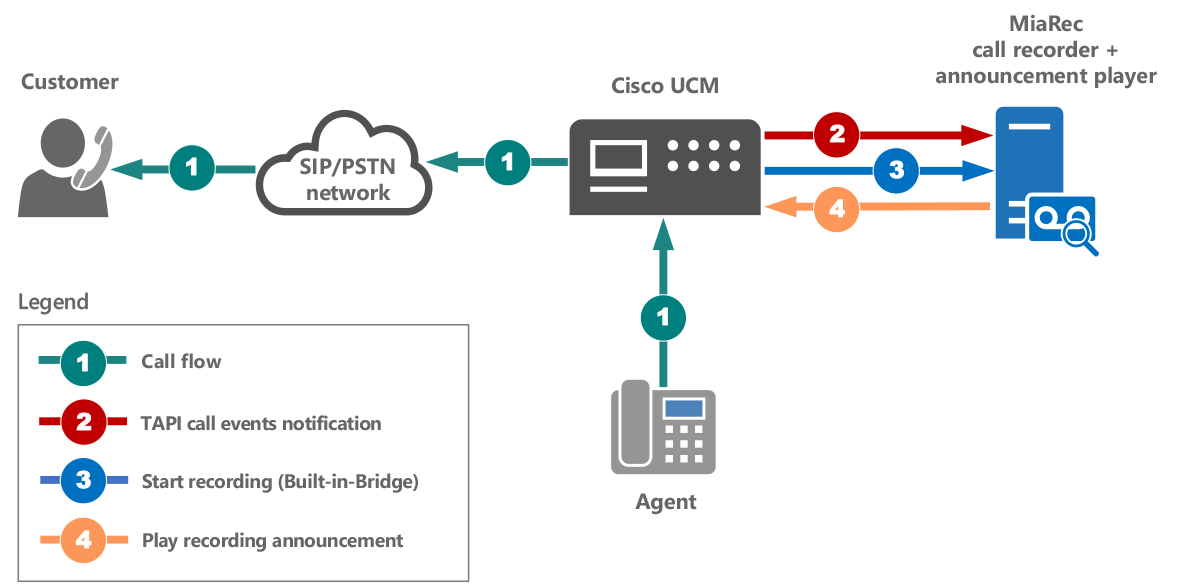 Requirements
Cisco UCM version 8.5.1 or newer (1).
Cisco IP phones supporting Built-in-Bridge (2).
TAPI interface to Cisco UCM.
What scenarios are supported
MiaRec may play recording announcement for all possible call scenarios that involve Cisco IP Phone.
Additionally, MiaRec supports flexible filters, that allow exclusion of some call scenarios from recording announcement. For example, internal calls between agents usually do not require announcement.