03. Add Server Configuration Profile
To define the MiaRec recording server, navigate to Global Profiles -> Server Configuration in the main menu on the left hand side. Click on Add and enter an appropriate name in the pop-up menu.

Click Next and enter details in the dialog box:
In the Server Type drop down menu, select Recording Server.
Click on Add to enter an IP address
In the IP Addresses / FQDN box, type the MiaRec recording server interface address.
In the Port box, enter the port to be used for the listening port configured on the MiaRec (TLS or TCP). This guide describes TCP transport configuration.
In the Transport drop down menu, select TCP.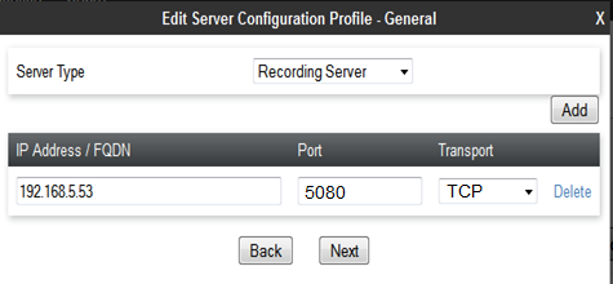 Click Next to configure Hearbeat as follows:
Enable Heartbeat with method OPTIONS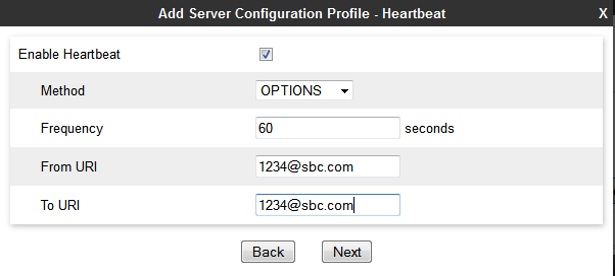 Click Next to configure Grooming as follows:
Enable Grooming which allows us to support multiple connections.
No interworking profile required for MiaRec
If using TLS, then select the Client profile created (note, the configuration of TLS profile is not covered in this guide)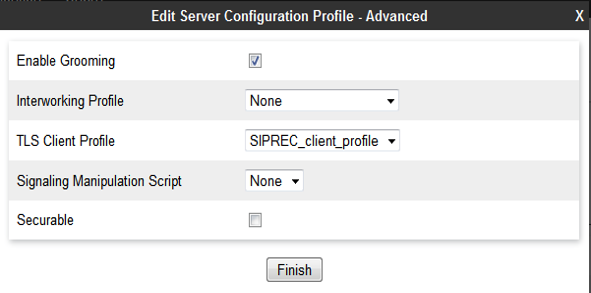 Click Finish.