04. Add Routing Profile for Recording Server
Routing information is required for routing recordings to MiaRec. The IP addresses and ports defined here will be used as the destination addresses for signalling.
To define routing to the MiaRec SIP Trunk, navigate to Global Profiles -> Routing in the main menu on the left hand side. Click on Add and enter an appropriate name in the dialogue box.

Click Next and enter details for the Routing Profile:
Click Add to specify the IP address for the MiaRec SIP trunk.
Assign a priority in the Priority / Weight field. If only a single recording server is used, then choose 1. If multiple recordings servers are configured for load balancing / auto-failover, then choose priority/weight for each server accordingly.
Select the recording server defined in Step 2 in the Server Configuration drop down menu. This automatically populates the Next Hop Address field.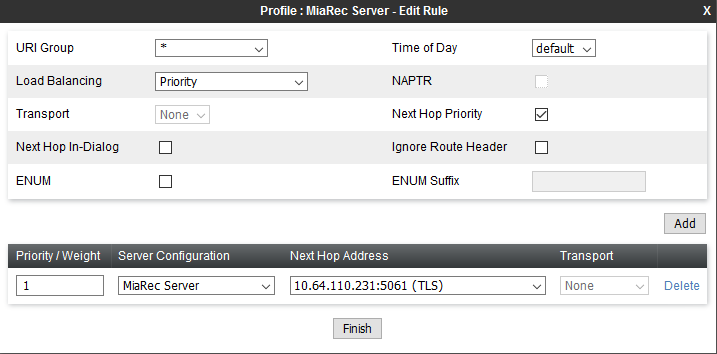 Click Finish.